NOTÍCIAS E EVENTOS
Nesta secção poderá encontrar Notícias relacionadas com o Hidrogénio, bem como Eventos importantes para a comunidade.

WORKSHOP "Hidrogénio - Tecnologias atuais e perspetivas para o futuro."

Organização UTAD/Projeto INOV@UTAD e Co-promoção AP2H2
Inscreva-se aqui:


Seminar on Hydrogen Fuel Cell Bus

Location: Lisbon – Portugal;Venue : At the Carris Santo Amaro Complex – "Salão Nobre"
Promoters: AP2H2/ENERGYIN/CARRIS Partners: CMTVD/LNEG/HyER/ FCHJU/CHIC
Objectives: To share the current European experience regarding Hydrogen Fuel Cell Bus and Logistics, covering different relevant topics for interested parties and entities.
PROGRAM
9h 30m – 10h 15m - Opening Session
Welcome Address: Manuela Figueiredo, member of the Carris Board of Directors
Opening Key Notes: European experience on Hydrogen Fuel Cell Bus: CUTE, CHIC…
- HyER / CHIC2
10h 15m – 11h 15m - State of the Art, Hydrogen Fuel Cell Bus
Technical specifications, performances, operational experience, economic data
- Thomas Tonger - Daimler/Mercedes Benz/Evo Bus
- Wrightbus/ Irisbus ? *
- José Costa – Development Director, Caetano Bus
- António Costa - Toyota
Open Discussion
11h 15m – 11h 30m – Coffee Break
11h 30 – 13h 00m - Hydrogen Logistics
Hydrogen supply chains; service station specifications; standards and safety requirements; hydrogen costs; storage requirements; investments
- Raymond Schmidt - Hydrogenics (Electrolysers)*
- Maria del Mar Archer - Air Products
- José Costa Pereira - Galp Energia
- Martins Vítor - Repsol *
Open Discussion
13h 00 – 14h 30m: Lunch Break and Networking

14h 30m – 16h 00m - End-Users Experience
Statements from European cities already participating in ongoing Projects
- Heinrich Klingenberg – Hy Solutions Hamburg (Germany)
- David Yorke - New Technology, Training and Projects Manager, Tower Transit Operations Ltd.
(London, UK)
- Aarau (Switzerland) *
- San Remo (Italy) *
Open Discussion

16h 00 – 16h 15m – Coffee Break
16h 15m – 17h 00m - Legal Framework and Financing Opportunities
Potential opportunities (European and National levels) – Smart Cities; Mobility; FCH-JU Agenda; national incentives
- Carlos Navas - FCH-JU (" Horizon 2020")
- Paulo Pais - C.M.Lisboa "Boas Práticas nos Instrumentos de Planeamento Urbano –
Mobilidade Sustentável "
- IMTT (Legal framework )*
- Portuguese incentive schemes - "Portugal 2020" *
17h 00m Closing Address
17h 15m – 18h 15m - Guided Visit to Carris' Museum
* To be confirmed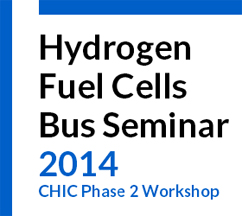 FCH JU Programme Review Days

The Fuel Cells and Hydrogen Joint Undertaking (FCHJU) is organising the third edition of its "Programme Review Days".
The objective is to assess, over the years, progress of the programme funded by the FCH JU, notably in relation to the targets of its Multi-annual Implementation Plan (MAIP), annual implementation plans as well as in relation to international developments in the field.
This exercise managed by the FCH JU with the help of independent experts was initiated in 2011 and is planned to be conducted every year.